1. Harry Potter and the Deathly Hallows Part I (November 19): I'm admittedly rather a hopeless Harry Potter fan. Really just hopeless. That said, I'm more than a little anxious to watch the gargantuan events of the seventh chapter unfold on screen. It's comforting knowing that the film has been split in two to allow for ample space in the re-telling, and the second to last outing for Daniel Radcliffe and crew (who we've watched grow up before our very eyes, weep weep) will be bittersweet. Oh, btw, did you see? Emma Watson has finalized her departure from Hermione Granger by chopping her hair into a Mia Farrow pixie cut. How long has she wanted to do that, I wonder?
2. The Social Network (October 1):
David Fincher's Facebook origin story has been receiving some serious early buzz. Just today, in fact, the world received word of the film's potential from Scott Foundas, former critic for Variety and the Village Voice, among others. Foundas claims the film is "splendid entertainment from a master storyteller, packed with energetic incident and surprising performances" [
source
]. Starring the rather brilliantly neurotic Jesse Eisenberg as network founder Mark Zuckerberg, I believe it. The trailer alone makes for solid entertainment.
3. Somewhere (December 22):
Who's a Sofia Coppola fiend? This kid. It's been four years since Coppola delivered the tableaux vivant that was
Marie Antoinette
. This time around, she's eschewing French period set pieces and Japanese fish out of water tales for something that hits a little closer to home.
Somewhere
is the Hollywood tale of a hard-living actor (Stephen Dorff) learning to live with and know his preteen daughter (Elle Fanning). Expect more lush cinematography and dreamy navel-gazing. Rumor has it Dorff's career is set for full on rejuvenation come December.
4. Black Swan (December 1):
M. posted this trailer already over at our blog Love & Squalor, but let me reiterate the sentiment: I am so totally jazzed about Darren Aronofsky's ballet-creep festival. The internet has been murmuring about
Black Swan
for nearly a year now, and our first glance at the finished product has so much potential it's almost unbearable. Aronofsky is one of my favorites, and each of his films feels like a meticulously arranged passion project braced for high impact. If this psychological thriller delivers half of what the trailer promises (and oh man, those last few seconds promise
a ton
), we'll be golden.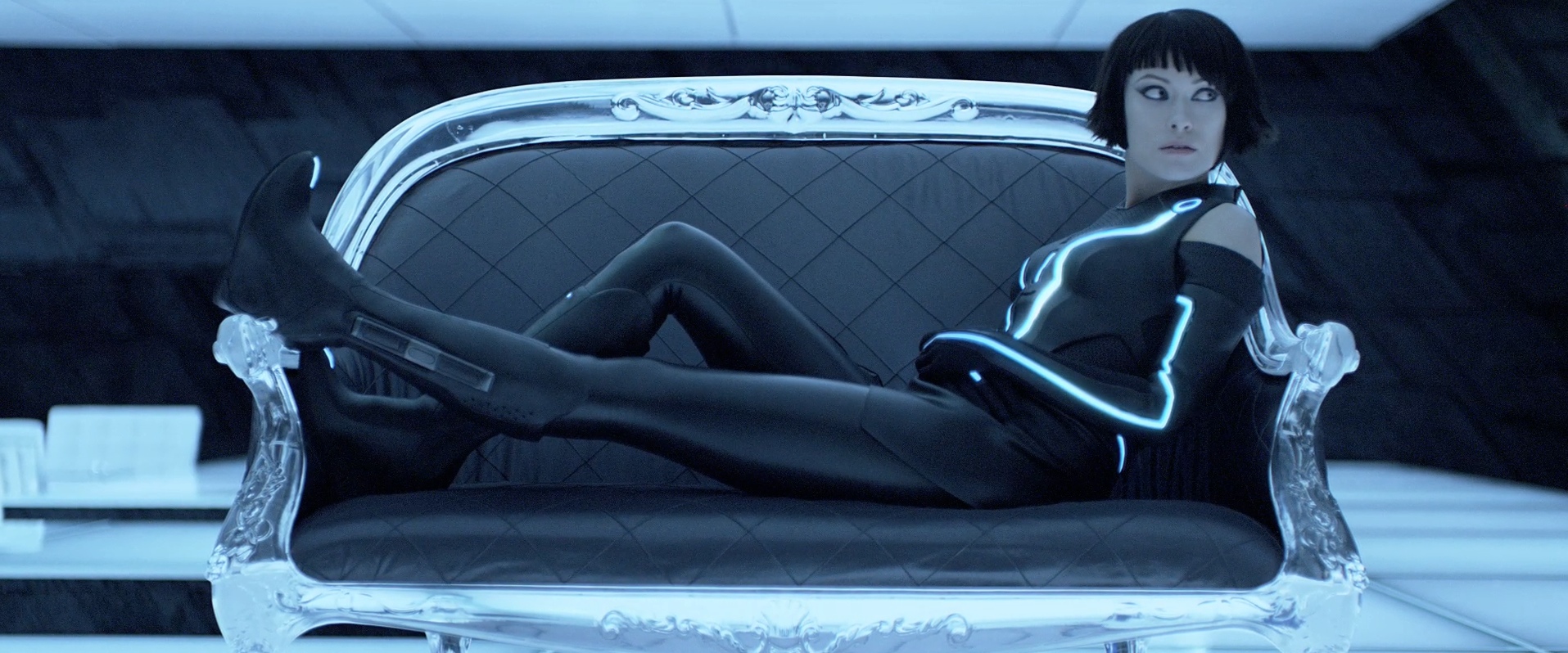 5. Tron: Legacy (December 17):
Haven't I talked your ear off about this enough already? Yeah. I'm really geeking out about
Tron
. Enough said.
6. True Grit (December 25):
I'm not too keen on the westerns, but I am keen on the way the Coen Brothers twist their dramatic thrillers. Sure, there's already been one film adaptation of Charles Portis' 1968 novel, but I suspect the Coens will take their telling in a darker, more literally gritty direction. Starring Jeff Bridges, Josh Brolin, Matt Damon and newcomer Hailee Stanfield as the 14-year old out to avenge her father, expect to hear quite a bit about this film as we approach its Christmas due date.
7. Never Let Me Go (September 15)
:
One Hour Photo
director Mark Romanek takes on Kazuo Ishiguro's quietly dystopian novel which I'd tell you a little more about, but, you know, it might be a surprise to you. Keira Knightley, Carey Mulligan, and Andrew Garfield (your new Spider-Man?) star as English school children figuring out life in a sheltered boarding school and entering their young adult lives in relative isolation. I'll stop there. Aside from a coming of age story, this adaptation promises to be a gorgeously shot, gripping, and timely drama.
8. Easy A (September 17):
We all know I love a good teen comedy. Sometimes I even love a bad one.
Easy A
appears to be the former, thankfully. I'm of the opinion that Emma Stone learned a lot from Jonah Hill on the set of
Superbad
, and has his comedic timing down pat. Watching her manipulate the high school rumor mill as a straight-laced teen banking on a Scarlet letter reputation should be a bit of fun before we enter into hardcore award season.
9. Jack Goes Boating (September 17):
Philip Seymour Hoffman transitions from actor to director with this indie-romance that's been running the festival circuit to glowing reviews. Based on a play of the same title, the story is said to be a working-class love story following the paths of two relationships; one just coming into fruition, the other on the verge of collapse. Hoffman's got great taste in scripts. If this was one he chose to bring to screen himself, chances are it's worth the effort.
10. The Girl Who Kicked the Hornet's Nest (October 15):
As I wrote in my Under 250 review of
Girl with the Dragon Tattoo
, I loathed Stieg Larsson's book, but I loved the film adaptation. As hacker/bad ass Lisbeth Salander, Noomi Rapace has a formidable screen presence that newly announced American replacement Rooney Mara will be hard pressed to follow. The films are tightly constructed thrillers, and when the third and final chapter of the Swedish series comes to art house screens this fall, I think it's safe to say this one will be no exception.
11. Let Me In (October 1):
Honestly, I'm a little annoyed we even needed an American remake of the Swedish vampire stunner
Let the Right One In
. I mean, the original is pretty hard to top, and if you're not up for reading subtitles, maybe you just don't deserve to experience the story at all. In spite of my grumbling, however, I'm sure the re-make will deliver something equally blood battered and cinematographically chilling. They've got everyone's favorite new child actor Chloe Moretz (
Kick-Ass
's
Hit Girl), Richard Jenkins, and a
really recent
raw product to work with. How could it not be? I mean, it's just...so soon.
12. Hereafter (October 22):
I'm being a bit presumptuous here, I suppose, as little has been revealed about director Clint Eastwood's newest Oscar-bait drama, but it's definitely anticipated. Starring Matt Damon, Cecile de France, and Bryce Dallas Howard,
Hereafter
is all about death. Damon plays a psychic, de France is a druggie mom, and the script comes from Peter Morgan (whose previous credits include
The Queen
and
Frost/Nixon
). Between that and Eastwood's quality control over the last decade, I'm definitely intrigued.
13. Due Date (November 5):
Robert Downey Jr. + Zach Galifianakis +
Hangover
director Todd Phillips. If they mess this one up, I mean, geez. Just geez. RDJ plays an anxious father-to-be, Galifianakis plays as aspiring actor, both are trapped in the same car on a road trip we can hope reaches the comedic heights it promises.
14. The American (September 1): George Clooney plays assassin for Control director Anton Corbjin. From the looks of it, we get the serious Clooney here. Limited on the smirk and snark, focusing on the dramatic capabilities of Hollywood's number 1 leading man. Will you mom like it as much? Probably not.
15. Another Year (December 31): I'm putting this on here even though I tend to over judge Mike Leigh's quiet little human stories. The last time I got my hopes up, I wound up absolutely loathing the film the and its protagonist (Happy Go Lucky, oh god it was so disappointing). Nevertheless, however, this likely rather sad movie follows the charmingly monikered couple Gerri and Tom (Ruth Sheen & Jim Broadbent) as a year passes and they deal head on with the events that time brings. No, it has nothing to do with Jack Goes Boating.


The Wild Card:
16. The Fighter (December 10): Very little has been revealed on director David O. Russell's boxing film. We know that Aronofsky was previously attached. We know that star Mark Wahlberg has been obsessively training for two years for his role as 'Irish' Mickey Ward. We also know the rest of the line-up includes Christian Bale, Melissa Leo, and Amy Adams. The involvement of Russell and the prior involvement of Aronofsky is enough to suggest that this ain't your typical sports film...but we know absolutely nothing just yet about the look, feel, or gravity of the flick. I'm paying attention, though. Always watching...
Others to look out for: British Oscar bait The King's Speech, Woody Allen's You Will Meet a Tall Dark Stranger, Will Ferrell, Brad Pitt, and; Tina Fey's animated supervillain comedy Megamind, much anticipated sequel Wall Street 2: The Money Never Sleeps, Disney's Rapunzel story Tangled, Julie Taymor's Helen Mirren/Russell Brand take on Shakespeare's The Tempest, Affleck directed The Town, Diane Keaton + Harrison Ford do daytime talk in Morning Glory, Ryan Gosling and Michelle Williams do the indie darling thing in Blue Valentine, Mirren + Freeman + Malkovich + Willis go rogue in Red