Guys, I'm totally failing miserably for the month of April. I mean, here it is, the 26th of an already short month, and the number of posts just barely stretches into the double digits. Epic fail. I have excuses, sure. We all know that most 20-something bloggers don't find their income via their internet ramblings, and I've wrapping up a semester on top of that. Would it help if I revealed that part of the reason April was so short on posts is because I had a 232 page novel to finish and revise? There you go. Anyway. We have important things to talk about. Not really important, but things have happened and I haven't addressed them. It's too late to do full posts on a lot of this stuff. I mean, telling you now that Sex Pistols manager and punk impresario Malcolm McLaren died April 8th of mesothelioma at the too young age of 64 seems a little delayed. But it happened. Make note of it. Tag it with a RIP.
Past that, the seventh season of Project Runway came to an end and it was so much better than the sixth (handicapped) season it wasn't even funny. The talent and vision were back up to standards and I had to hand it to each of the designers that made it to New York Fashion Week. They all belonged. But, of course (spoiler alert?), my horse still won. Seth-Aaron Henderson crossed the finish line with a collection inspired by German & Russian military garb of WWII....and, I mean, it didn't even look as cool as the stuff he trashed from his show at the urging of TIm Gunn. Guys, I don't mean to brag, but I'm on a winning streak with predictions and this show. No, seriously. I've favored the winner from season 3's Jeffrey Sebelia onward (for season 2, I still think Santino Rice was the most interesting contender). Anyway, I'm not going to lie, but I was pretty disappointed by runner-up Emilio's display of sore loserdom at the reunion. Dude, it's not like you didn't get yourself a shit ton of exposure. And Jay? Yeah. I'm sorry, you weren't fooling anyone. Those deep v-neck t-shirts were somehow operating as a signal that you were secretly a catty bitch the whole time. We knew. Secret is out. Blame the models all you want. We're all sitting her judging.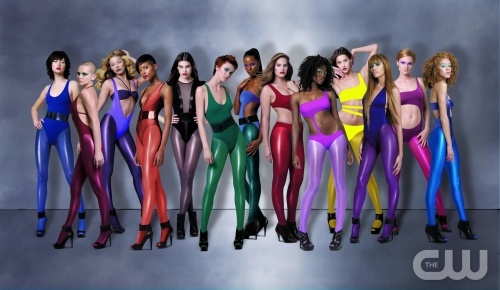 Meanwhile, in reality tv land, the less talented, attention grabbing sibling to Project Runway, America's Next Top Model has managed to reach a new level of ridiculous this season. Everyone on that show right now either became a mom when they were still a teenager or is out to start catfights and cause drama. Meanwhile, Andre Leon Talley is inventing new words, sitting around in his gigantic caftan, and waving his arms at the screen finding things worthwhile while I just sit there and go...really? Less than impressed. Less than impressed. I know there are probably people in the viewing public who totally disagree with me, but with Top Model, finding out the girl is a mom is a serious detractor for me. No matter what they do I can't bring myself to like them. This could have something to do with the way they're always crying in the confessionals about missing their infant child. I don't know. Apparently I'm really bad at not judging the personal lives of reality tv stars guys. I'm as bad as Jay. Krista. I like her. Raina. She'll make it up there as well.
Big new thing today is M.I.A.'s graphically violent, seriously political, definitely NSFW video for her new single "Born Free" (which also, oddly, makes a really intense soundtrack to the chariot race from Ben-Hur. yes. i know this from experience). It's an epic 9 minutes and features ginger boys being rounded up and executed. What do we make of this? Discuss.
Additional discussion? South Park scandal. Trey Parker and Matt Stone have found themselves is Salman Rushdie territory. I'm not too keen on what this means for freedom of expression within our own country. I think this shot from the opening credits to last night's episode of The Simpsons is sort of worth more than a thousand words....beginning with 'eek'.
Meanwhile, and of absolutely no relation, Janelle Monae has an awesome Metropolis crown hat thing. It's just another reason why she's cooler than you. Adapt. Resistance is futile.
This is the intentionally blurred cover of the May issue of the Elle UK. That's Kylie Minogue but what it really is is arty and different and eye catching. No clutter, no headlines, just an image. Meanwhile, I'm pretty sure that Anna Wintour and the rest of the crew at American Vogue have totally given up on making their cover shots unique. Month after month it's red, white, and black all over with super safe glamor and uninspiring photography. Not good. Here's what I demand: Anna, step aside, all your covers are now belong to Grace. She'll style them, she'll choose the final shot, she'll bring back the models. Is that clear? Good. Also, give me a job. K? Thanks.
BTW, Kylie has an album coming out. I know that made like five of you run around doing a deranged happy dance.
Also: Tilda Swinton. She's what you need, American Vogue. Court her. Don't leave her for W. You need more avant garde street cred.
Once, long ago, I read the book Morvern Callar. This week, I watched Lynne Ramsay's film adaptation. Uhhh....guys, I'd seen Ratcatcher and was at least a little familiar with Ramsay's work. Ratcatcher was good, but didn't do much for me. This one, though, was completely unexpected. A completely gorgeous cinematographic experience. Morvern was Ramsay's last effort, and that was way back in 2002. This year, however, we can expect a Ramsay resurgence with We Need to Talk About Kevin, starring John C. Reilly and (yep) Tilda Swinton as the parents of the titular boy; a teenager responsible for a school massacre. The tough subject matter, combined with the post-Bigelow-Oscar craze for female directors, could usher in some serious accolades this side of the pond for the talented ms. Ramsay.
What else, what else...oh, in her new memoir, Pam Grier says she had a case of cocaine vagina:





He said, "Pam, I want to tell you about an epidemic that's prevalent in Beverly Hills right now. It's a buildup of cocaine residue around the cervix and in the vagina. You have it. Are you doing drugs?"

"No," I said, astonished.

"Well, it's really dangerous," he went on. "Is your partner putting cocaine on his penis to sustain his erection?"

"No," I said, "not that I know of. It's not like he has a pile of cocaine next to the bed and he dips his penis in it before we have sex." I had a nauseating flash of one of Richard's famous lines: Even my dick has a cocaine jones.

"Are you sure he isn't doing it in the bathroom before he comes to bed?" the doctor asked.

"That's a possibility," I said. "You know, I am dating Richard Pryor."

"Oh, my God," he said. "We have a serious problem here. If he's not putting it on his skin directly, then it's worse because the coke is in his seminal fluid.""
Jezebel
has consulted with physicians. They say this is pretty unlikely. But, we all know that non-fiction relies more on individual memory of the experience than fact. If Foxy Brown says Richard Prior gave her cocaine vagina, I'm not going to call her a liar. You don't mess with Foxy.
That about sums it up, I think. Boring boring boring. I keep having visions of basically just living in a swimming pool. Or, I could live next to one. Sydney, anyone? Or, at least Vegas. I need a vacation. For reals.