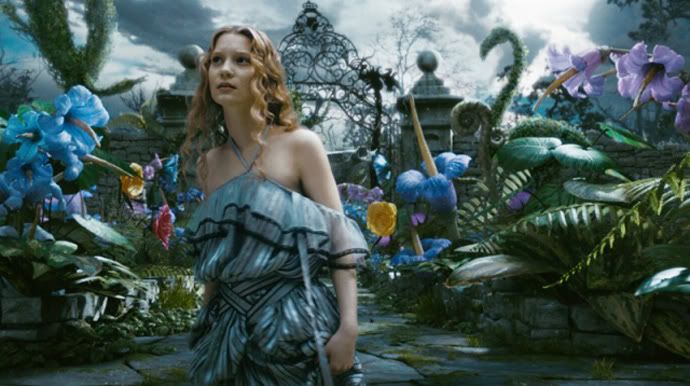 I could begin this fall down the rabbit hole any number of ways. I could tell you that, after enduring these particular two hours of cinematic spun sugar in 3D and full IMAX, I'm having trouble collecting my thoughts. I could forewarn you that my opinions have not been fully formed, that I'm reacting according to my gut, that the number of hearts (2, for those unwilling to scroll) awarded to this film may drop lower or ascend to new heights as distance comes between me and my immediate distaste. Yes, I've started with all of these things. Now allow me to start where I need to: at the beginning. For there is always a beginning and in this case my particular beginning makes me either particularly biased or particularly prone to unnatural affinity. You decide which. We're all mad here.
You see, dear reader, I am a child raised in Wonderland. It's not a story I found disturbing or frightening as a child, it's a pair of books and an animated classic spoon fed to me by a father who possessed (and still possesses) a great love of Carroll's creation. When I say that I love
Alice's Adventures in Wonderland
and
Through the Looking Glass
I love them as a single entity, one concrete idea, not with a casual fondness but with a fervor. Those who know me can attest: my religion, the foundation of my belief system, has been constructed upon groundwork taken from a handful of literary and artistic sources. At the pyramid's base a twin duo of children's tales: 1. Alice 2. Peter Pan. These are the scriptures. The holy texts filled with small lessons and simple masked truths. Forgive me if I'm prone to exaggeration...my imagination and my cursor get ahead of me....
Finish this review @...