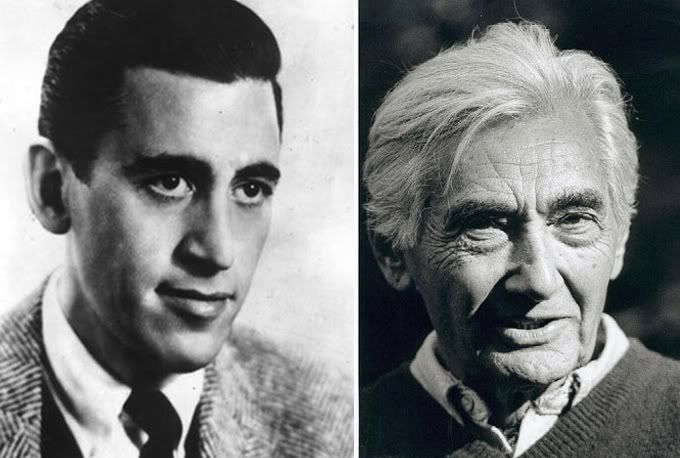 It's a dark day in the hallowed halls of academic institutions everywhere. Yesterday, word was given that Howard Zinn, famed historian and political activist, passed away yesterday at age 87 of a heart attack in a Santa Monica pool. Today, reclusive author J.D. Salinger passed of natural causes at age 91.
Zinn, of course, was the author of that tome loved and loathed by students cross country:
The People's History of the United States
. For those who didn't do their required high school reading, the book is considered a seminal work in the pantheon of political science and attempted to present crucial moments in history from the perspectives of those otherwise unheard. I'll be honest with you, while I have since learned to appreciate the book, in high school it was the bane of my existence. Yet, Howard Zinn, you will certainly be missed.
Salinger, of course, is famous for the creation of the iconoclastic voice of teenage angst: Holden Caulfield in
The Catcher in the Rye
(1951). He also penned
Franny and Zooey
and several short works before closing himself off from most of the world and living the life of an enigmatic recluse. Salinger had not published a new work since 1965, when his short novella "Hapworth 16, 1924" was printed in
The New Yorker
. Ironically, just as with Zinn, I'll own up to never going through a Holden Caulfield stage. Yet, while I may not be a great
Catcher
fan, it's certainly a truth that Salinger was a literary giant, and I'll be curious to see what sorts of posthumous texts start popping up from his estate (
Joyce Maynard
always claimed he remained quite prolific). The astute amongst you will also note that the name of my other blog (Love & Squalor) is indeed an expression swiped from a Salinger's story "For Esme- with Love and Sqaulor". I can't say I remember much of the plot, but I can say I owe my use of the phrase to Mr. J.D. Salinger. A toast, sir.