It's the morning of one of my least favorite evenings of the year. This time around, it seems like fewer people than usual have exciting shit going on, which is why it's all the more irritating when they feel the need to ask what you're doing on NYE. Example: "Got any big plans for NYE?" "Uh, avoiding everyone?" "Oh yeah, me too." Such a worthwhile exchange. Anyhow, 2010 is on the brink of over, the Pop Candy Arcade 'best of' music lists are done, I'm looking ahead to the future, I'm
not
making resolutions (though M. and I have been making changes at
Love & Squalor
), and for the last time this year, I'm looking into the bad decisions celebrity types have been making: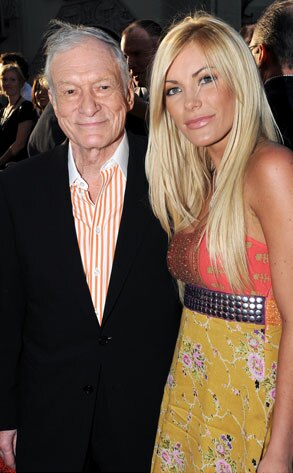 H

ugh Hefne

r, king of the Playboy mansion, got engaged to one of his latest girlfriends this week. The 84-year old made the announcement over Twitter, telling the world that just months after divorcing his second wife and splitting up with identical twins Kristina and Karissa Shannon, he intends to marry 24-year old Crystal Harris. Dear Crystal Harris: what are you thinking? That man is six decades older than you. I don't know how good you are at math, but that means that when you were born, Hef was already celebrating his 60th birthday. Also, dear Hef: at this point, what's the point of getting married again? Also, dear Holly Madison: how are you feeling about this? Bitter, maybe? Dear Crystal Harris again: I don't know if this is going to pan out quite the way you imagine it now, but good luck with those "projects." [via

E!

]

S

elf-proclaimed "Ivory Queen of Soul"

Teena Marie

was found dead last Sunday of natural causes. The singer was only 54. [

source

]
N

atalie Portman

managed to scoop the tabloids this week when she announced that not only is she engaged to her choreographer on

Black Swan

, Benjamin Millepied, but, uh, she's also pregnant. The 29-year old's reps told

People

the baby is due in 2011. 2011. Huh. Imagine that. Well, I mean, I guess it's not happening today. In other news: I was more alarmed by this announcement than anything in

Black Swan

. Also, I really hope that as they prepared, their relationship was nothing like the one between Nina Sayers and Vincent Cassel's character. [via

PEOPLE

]

N

atalie Mendoza, a lead actress playing new villain Arachne in Julie Taymor's disastrous

Spider-Man: Turn Off the Dark

production, has quit the show. She's the latest casualty in what has now become a laundry list of injuries and issues. Seriously, how long until they cancel this train wreck?

H

orrible fact number one:

Kim Kardashian

is pursuing a recording career. Why is this happening? Because that family can't leave anything unbranded. Horrible fact number two: Kim shot the video for her first single the other day, enlisting the assistance of

Kanye West

. Ugh. Kanye, please, runaway fast as you can. [

source

]

T

hey're making a porn version of

Reservoir Dogs

. Assuming you've seen Quentin Tarantino's dialogue and violence heavy film, just think that over for a few minutes. [via

/Film

]

T

he almost finished video for

Kanye West

's "Monster" has leaked. Take a look

here

.