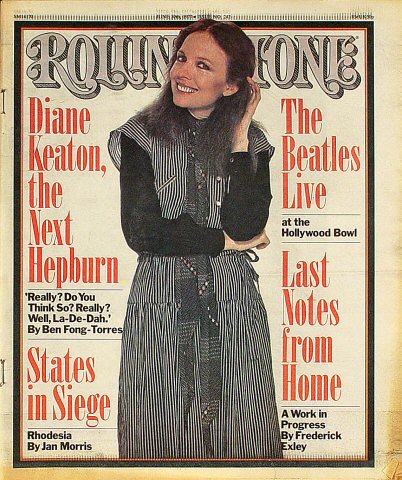 A few months back, HBO announced an upcoming show called "Women's Studies" about a feminist it-girl turned liberal arts professor. I was psyched then, because having experienced them, i can honestly say that gender studies courses in academia are (more often than not) an untapped comedic (and dramatic) resource ripe for parody and self-reflection.
Now, however, they're adding another show to the in development queue. Marti Noxon, responsible for producing shows like Mad Men, Buffy the Vampire Slayer, and Grey's Anatomy, is writing an as yet untitled comedy series for the network which will star the one and only Diane Keaton as "a feminist icon who attempts to reignite the movement by starting a sexually explicit magazine for women" [
Reuters
]. Oh hell yes.
Noxon has wanted to do a feminism-driven show (not Buffy) for quite awhile. Her point of view will stem from experiences she had with her mother. It seems, she was a preteen when her mother "came out as a radical feminist and a lesbian and recalls juggling her mom's beliefs -- which included the dismissal of leg shaving as "giving into patriarchalism" -- with her own interests."
Meanwhile, this could be the role that puts Keaton back on track. She's been on the back burner for the past few years, typecast after
Something's Gotta Give
in the role of domineering matriarch. I love Diane Keaton, unabashedly, she's a pretty cool lady... but
Mad Money
and
Because I Said So
are some of the worst films in recent memory. This, though, sounds just right.
[
SOURCE
]