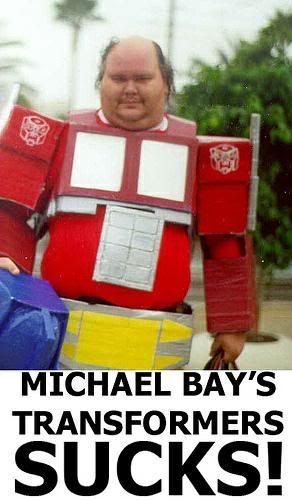 I may have loved the toys, but I have no interest in
Transformers: Revenge of the Fallen
. The first one was overblown and mediocre at best, and the second one looks no better. Plus, you know, there's my whole intense irritation with The Beef. Whoever decided that kid was cut out to be an A-list leading man needs to be shot. Seriously. Spielberg, you drop that script for Indiana Jones 5. Don't even go there. He's your Jar Jar Binks, man. Just leave it alone.
Anyway, the critics seem to share my thoughts. A quick glance over the blurbs on Rotten Tomatoes is good for a few "I-told-you-so" grins. However, none more so than the scathing, angry review of the world's foremost critic: Roger Ebert. I may have mentioned this before, but i dig Ebert. He's a guy who knows a great movie when he sees one, but also has the guts to tell you when a fluff piece is worth watching. He'll fawn over
Moon
, but note the merits of
17 Again
as well. So, when he hates a movie this big, the review is always worth reading.
That said, check out Ebert's opener, and from there, i recommend you direct yourself to the full review:
""Transformers: Revenge of the Fallen" is a horrible experience of unbearable length, briefly punctuated by three or four amusing moments. One of these involves a dog-like robot humping the leg of the heroine. Such are the meager joys. If you want to save yourself the ticket price, go into the kitchen, cue up a male choir singing the music of hell, and get a kid to start banging pots and pans together. Then close your eyes and use your imagination." [Read on...]