It's all over the newsfeed, kids, Jude Law is dragging it up for all-too-absent auteur Sally Potter's (Orlando, a personal fave) film Rage. Law apparently delivers a raw performance as a celeb-'super mode' named Minx alongside a cast that includes literal "action-transvestite" Eddie Izzard, former Wong Foo-er John Leguizamo, actual porcelain doll Lily Cole, and major bad-ass Dame Judi Dench. Who's excited? This kid. I love me some trannies.
To celebrate, let's take a look back at some of my favorite on-screen gender-benders.
1. John Cameron Mitchell as Hedwig
(Hedwig and the Angry Inch
) - No one pulls off glitter lipstick and flipped out wigs quite like Mitchell in this indie rock musical of his own creation. With the East German accent and botched sex change operation, Hedwig is queen of the androgynes.
2. Tim Curry as Dr. Frank-N-Furter (
Rocky Horror Picture Show
) - It's quite possible that Tim Curry is responsible for the sexual confusion of millions of young Americans. I mean, my god, those legs! He pulls off fishnets and heels far better than 95% of the women i know. True story. This transvestite from Transylvania also makes it socially acceptable for males to leave the house in corsets and pearls. For that, we must love him.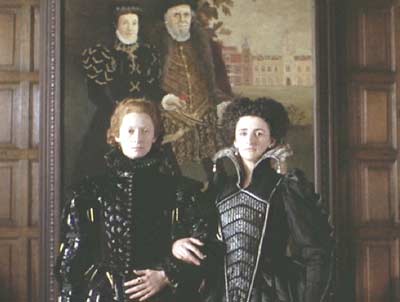 3. Tilda Swinton as Lord/Lady Orlando
(Orlando
) - Based on the Virginia Woolf novel of the same name, Swinton plays the seemingly immortal titular character who (over lifetimes) magically undergoes the transformation from effeminate Elizabethan male to full-on female overnight (without the aid of surgery or conscious decision). The film is gorgeous, and gives us no reason to doubt that in the moors and castles of England, such characters are thriving still.
4. Johnny Depp as Bon Bon (Before Night Falls) - He steals the show and manages to make the rest of this Schnabel film seem bland. Barely present, but unforgettable.
5. Hugo Weaving, Terence Stamp, & Guy Pearce as Mitzi, Bernadette, & Felicia
(Adventures of Priscilla, Queen of the Desert) -
It's been a very long time since i've seen this. But it's an Aussie classic, and who doesn't love that long before he was Agent Smith Hugo Weaving was on-screen under two tons of eyeshadow?
6. Chiwetel Ejiofor as Lola (
Kinky Boots
) - The movie is adorable, really. The heir to a failing men's shoe business looks to re-invent the company through the production of drag-specific items. Lola is his accidental muse and business partner. She also performs a few show-stoppers.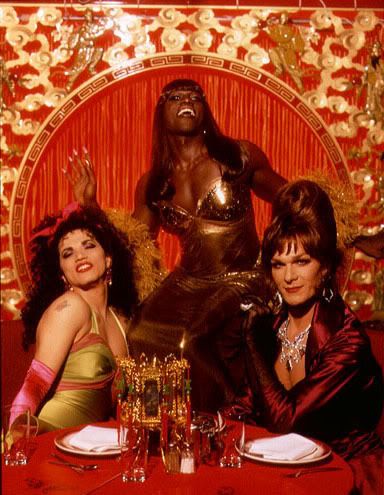 7. Patrick Swayze, Wesley Snipes, & John Leguizamo as Vida, Noxeema, & Chi-Chi
(To Wong Foo
...) - Call me crazy, but in terms of lead roles, all three of these actors can count these performances as near the top of their respective careers. Especially you, Snipes.
8. Felicity Huffman as Bree (Transamerica) - The desperate housewife made a big leap from her primetime soap opera to this indie role as a pre-op transgendered male who learns he fathered a child in his one hetero experience. The man voice! The nude scene! The ways in which you will never see Huffman in the same light again = so many.
10. Dustin Hoffman as Tootsie
(Tootsie
) - Dustin Hoffman does not an especially attractive woman make. But, Dustin Hoffman does a fine comedic performance make. So good, in fact, that the film was nominated for Best Picture back in '82.
11. Georges Du Fresne as Ludovic
(Ma Vie en Rose
) - No, it's not the Edith Piaf movie. Yes, young children can also drag it up. Ludovic identifies with girls, enjoys wearing dresses, and has plans to marry the boy next door in this sweet French film.