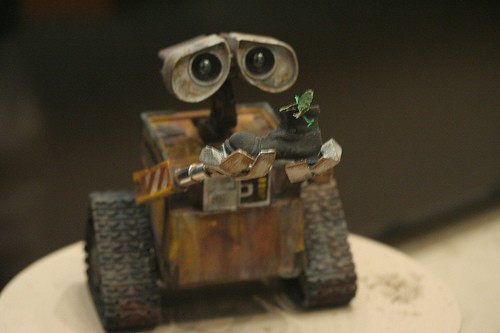 Better late than never, right? Besides, staggered limited release dates make it tought to see a fair amount of these films until just after the New Year. While there may still be a few to be discovered at a later date, I present to you now my Top 12 Films of 2008.


12. Slumdog Millionaire - A great little Dickensian human interest drama with a beautiful palette. Definitely succeeds in stringing together entertaining vignette slices via a fairly clever device. It's got a soul and some heart and champions the human spirit and all that jazz. I'm not jumping on the bandwagon and saying it's the best film of the year (nor is it director Danny Boyle's best film), but it ranks, and was enjoyable. I don't think it's worthy, however, of a Best Picture Oscar.



11. The Fall -It's not perfect, and certainly draws a fair amount of negativity in the wake of Pan's Labyrinth, but The Fall is a visual masterpiece. This is an epic in miniature beautifully realized by Tarsem Singh and worth switching over to Blu-Ray for. While technically wrapped in 2006, this film didn't see the light of day until 2008.




10. Frost/Nixon - A surprisingly entertaining film that blends docu-dramatic touches in with solid scenes that succeed in drawing the viewer in to the urgency of this interview during that particular moment in time. Even if you know the outcome, you can't help but feel the tiniest bit of angst as you watch how it plays out.




9. Son of Rambow - Should have been a sleeper hit, but failed to catch on in the states. A pitch perfect comedy that blends 80's nostalgia, coming of age, and French Exchange Students with the greatest of ease. It earns a spot on this list if for no other reason than that i know this will be one worthy of many repeat visits. Just for fun.




8. Revolutionary Road - There's a ton at work here, particularly in terms of character depth and development. What we don't see is as important as what we do, and we are given a picture that is perhaps more fully realized than American Beauty. For the optimists, it's a devastating portrait of a relationship, and yet i can't help but feel it should be required viewing for young, desperately in love couples everywhere.



7. Vicky Christina Barcelona - Thoroughly enjoyable. This is definitely Woody's best in ages, and if it weren't for the neurotic nature of the characters, it would be easy to forget his involvement entirely. The scenery is beautiful and the story is sharp and frequently laugh out loud funny. Bardem is charming and Johansson is fairly static, but Penelope Cruz (with a late entrance) steals every scene she's a part of.




6. The Wrestler - This is a beautiful little movie that really captures the devastation of age and the slow realization that you are no longer being able to do/have that which you love. Mickey Rourke delivers a high impact performance and you believe in his character every second he's on screen. For me this is definitely ranking as one of the only worthwhile "sports" films of all time, right behind Raging Bull. It's also proof that Aronofsky is a master when if comes to truly harnessing human emotion in cinema.




5. Doubt -Excellent. A rapid-fire story with smart dialogue that builds in intrigue steadily, and approaches 'same-old' controversies from another angle. The acting is top shelf and it's safe to say that while at its heart Doubt is high-drama, the performances lift the story out of the mire and make this film remarkably watchable and entertaining.



4. The Curious Case of Benjamin Button -If you meet someone who tells you this is just some overblown Forrest Gump rip-off...bludgeon them with the nearest heavy object, and then run the other way. Aside from the portrayal of an amazing life over decades, there's no comparison. Benjamin Button boasts an impressive cast, a visionary director at its helm, and a story that unfolds like a fairy tale meditation on human life. There's magic here. It's true.



3. Synecdoche, NY - I really thought this was a beautiful movie worthy of repeat viewings. Like all of Kaufman's work, it teeters on the brink of science fiction and madness and uses abstraction to ultimately present something that is unflinchingly human. This is a movie about life in the broadest sense of the term, and because of that, many may find the scope of this film a little overwhelming. In fact, it may be safe to say that what many will take as the movie's drawback is a flaw built into the film from its onset. That in depicting so much, the viewer is forced to filter it into so little. But the pieces are all there. Synecdoche showcases every aspect. Relationships, decisions, dreams, worries, neurosis, bodily limitations, birth, death, loneliness, this isn't a movie where nothing happens, this is a movie where everything happens and what the viewer takes from it defines their own personal experience (in this way, it actually mirrors the assumed intention of Caden's dramatic project). Apart from that, however, I'd argue this is definitely a worthwhile movie, or meta-narrative. The acting is great on the whole (though I do wish that some of the characters were allowed to stick around longer), there's an undercurrent of quirky humor, and it really does look great. As Kaufman's first film in the director's chair this is a very impressive (and highly ambitious) effort. Ultimately, I dug it, but be forewarned: it's not easy. Very postmodern. Very melancholy. Very original. Definitely on the pretentious side.




2. The Dark Knight - Do I need to offer up an explanation? It redefines the superhero genre and serves up multi-layered mythology and action in a way that, as of right now, appears to be leaving a definite mark on the future of comic adaptation and crime drama.



1. Wall-E - I've gone back and forth as to what should be at the top, and i've become quite sure that Wall-E is destined to become a classic. This is a stunningly beautiful work of science fiction that functions on so many levels. I wouldn't hesitate to call this a masterpiece of dystopian post-apocalyptic work, really. Not unlike 2001, but combined with a serious amount of heart that makes the film and its message accessible to a much wider audience. Wall-E himself is completely adorable and unforgettable, he's an AI version of Chaplin's little tramp, and will probably never cease to succeed in making me joyously happy and heartbroken simultaneously.


Honorable Mentions: Let the Right One In, Iron Man, The Reader, Gran Torino, Choke .