So GQ made four different covers for their 'Men of the Year' business. That's right, apparently this is one election that Barack Obama couldn't win. Instead he has to share it with that Gold Medal Asshole Michael Phelps (who doesn't know how to wear pants properly) as well as Leonardo and Don Draper (no, he's not really Jon Hamm, just Don Draper). I mean, Leo and Don Draper are cool and everything, but how did they finagle a way in during an election year? Just askin'.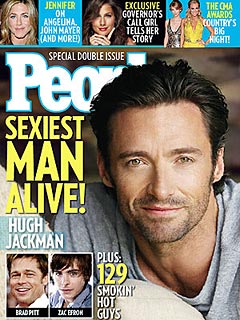 Also, People Magazine has named their annual 'Sexiest Man Alive'. Yep, it's Hugh Jackman. I buy that, because millions of women will collectively swoon during the romantic epic that this
Australia
, and also probably because they just felt pervy putting the ZEfron at the top. Don Draper and Michael Phelps also made this list. Along with some other random folk like "Saved by the Bell" alum Mark-Paul Gossalaar and Lang Lang. I don't know about this list...seriously, can someone explain to me what's supposed to be attractive about Aquaman? I'm listening. Personally, I think Johnny Depp should just be put at the top of the pile every year until he's 80. Maybe that's just me...
I may have to post a response list to this.